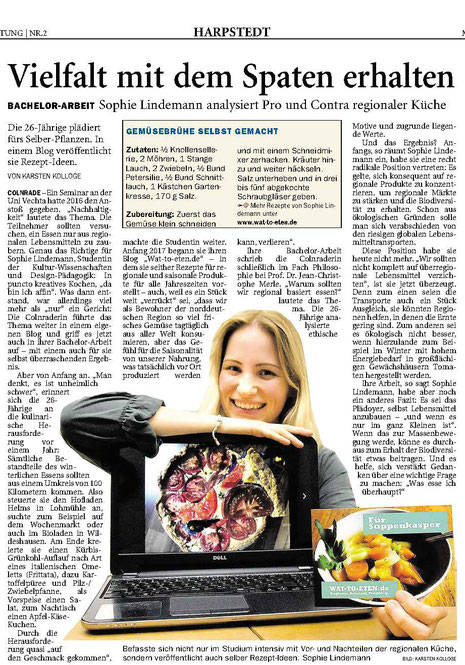 Keeping diversity with the Spar
Picture: Not only dealed with pro and cons for regional kitchen in her studies, but publishes recipe ideas herself: Sophie Lindemann
Tagline: The 26 year old pledges for self growing. In her blog she publishes recipe ideas.
Colnrade – A class at University of Vechta in 2016 started it all. Topic was "sustainability". The participants were dared to try to cook a meal, which out of regional groceries. Exactly the right thing for Sophie Lindemann, student of cultural studies and design pedagogies: In creative cooking, "I am oriented". What happened afterwards was much more than a "simple" dish: The girl from Colnrade took the subject to her own blog and even wrote her bachelor thesis about it – with a result which was surprising even for her.
But let's start at the very beginning: "You would think it is extremely difficult", reminds the 26-year old of the culinary challenge one year ago: All ingredients of the winter menu should have been from a circle around 100 km.  So she went to farm store Helms in Lohmuehle, searched for example at the farmers market or bought stuff at the organic store in Wildeshausen. In the end she created a Pumpkin-Kale-Frittata with mashed potatoes and a mushroom-onion-pan. As pre she served a salad and for dessert she made a apple-cheese-cake.
Due to challenge quasi "got the taste", the student went on. In the beginning of 2017 she started her blog "wat-to-eten.de" – in which she presents recipes for regional and seasonal products for all seasons since then – also because it's kind of "crazy" that "we as inhabitants of the northern region consume fresh vegetables from all over the world daily, but we lose the feeling for seasonality of our nutrition, what actually can be produced local".
In the end she wrote her thesis in philosophy with Prof. Dr. Jean-Christophe Merle. "Why should we eat local" was the question. The 26-year old analyzed ethical motives and values.
 And the result? In the beginning she was kind of radical, she admits: You should eat regional products to support local markets and keep biodiversity. Also because of ecological reasons we should stop those huge global trading chains.
This position she has not anymore. "We should not deny all products above local ones", she thinks now. On the one hand, the transportation helps to compensate regions, which are less fortuned to grow food. On the other hand it is ecological seen not more profitable to grow tomatoes in green houses in winter as they have a high energy usage.
Her work also has a different result says Sophie Lindemann: It is a pledge to self grow food – "also if its just very small". If this becomes a mass movement, we all can help with the preservation of biodiversity. And it helps to think in deep about: "What do I actually eat?"

Written by Karsten Kolloge, Translated by Sophie Lindemann